HARD AT WORK LICENSE PLATES
SUPPORT THE INDUSTRY WITH A "HARD AT WORK" LICENSE PLATE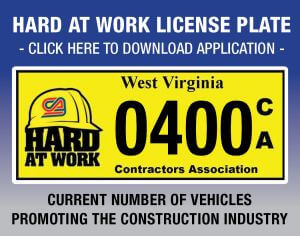 Are you "Hard at Work"? Show your support for the construction industry by signing up for an official DMV-issued "Hard at Work" license plate.  This license plate raises the visibility of contractors throughout the state.
"Our members are our greatest advertising tool and our missions are best served by strength in numbers," said Carrie Haynes, who served as the 2011-2012 Public Relations Committee chair. "Each "Hard at Work" logo advertises our commitment to the association and industry." Haynes explained that she was hit with a new idea for promoting the association while traveling on I-79.  "Alumni plates, wildlife plates, Friends of Coal plates, even NASCAR plates are becoming much more common," she said. "A "Hard at Work" plate will be a powerful advertising statement on the back of our members' vehicles while also providing support for the State Road Fund."
Companies can submit multiple applications by completing a form for each vehicle and submitting one check to cover the total fee.
The initial check to the CAWV Scholarship Foundation will be $91.50. Annual renewals are $66.50. The entire license plate fee goes directly to the State Road Fund. All Class A vehicles, which includes anything under 10,000 pounds, are eligible for the plate.
Please pass the application along to your co-workers, employees, friends and family members. Any vehicle under 10,000 pounds (Class A) is eligible for the plate. Please consider them for your vehicle fleet and personal vehicles. Please don't hesitate to contact Pat McDonald at (304) 342-1166 or pmcdonald@cawv.org with any questions.