West Virginia Construction News
West Virginia Construction News is the official magazine of The Contractors Association of West Virginia and has been "The Voice of Construction in the Mountain State" for 86 years. Our bi-monthly publication reaches a pass-along readership of more than 3,000.  The readership consists of building, heavy, highway and utility contractors; engineers and architects; legislators; federal, state and local government employees; suppliers of goods and services to the construction industry; and others directly or indirectly associated with the construction industry. Each issue contains current local and state construction issues, features CAWV members, and member activities. The association is always looking for projects to feature and examples of members using the "Hard at Work" logo. Advertising opportunities are available for members and non members.
For more information, contact Cassidy Webb at (304) 342-1166 or cwebb@cawv.org.
2022-2023 CAWV President James B. Ridgeway

CAWV Board of Directors 2023-2024

CAWV celebrates centennial year in grand fashion

Construction Leadership Program - Class of 2023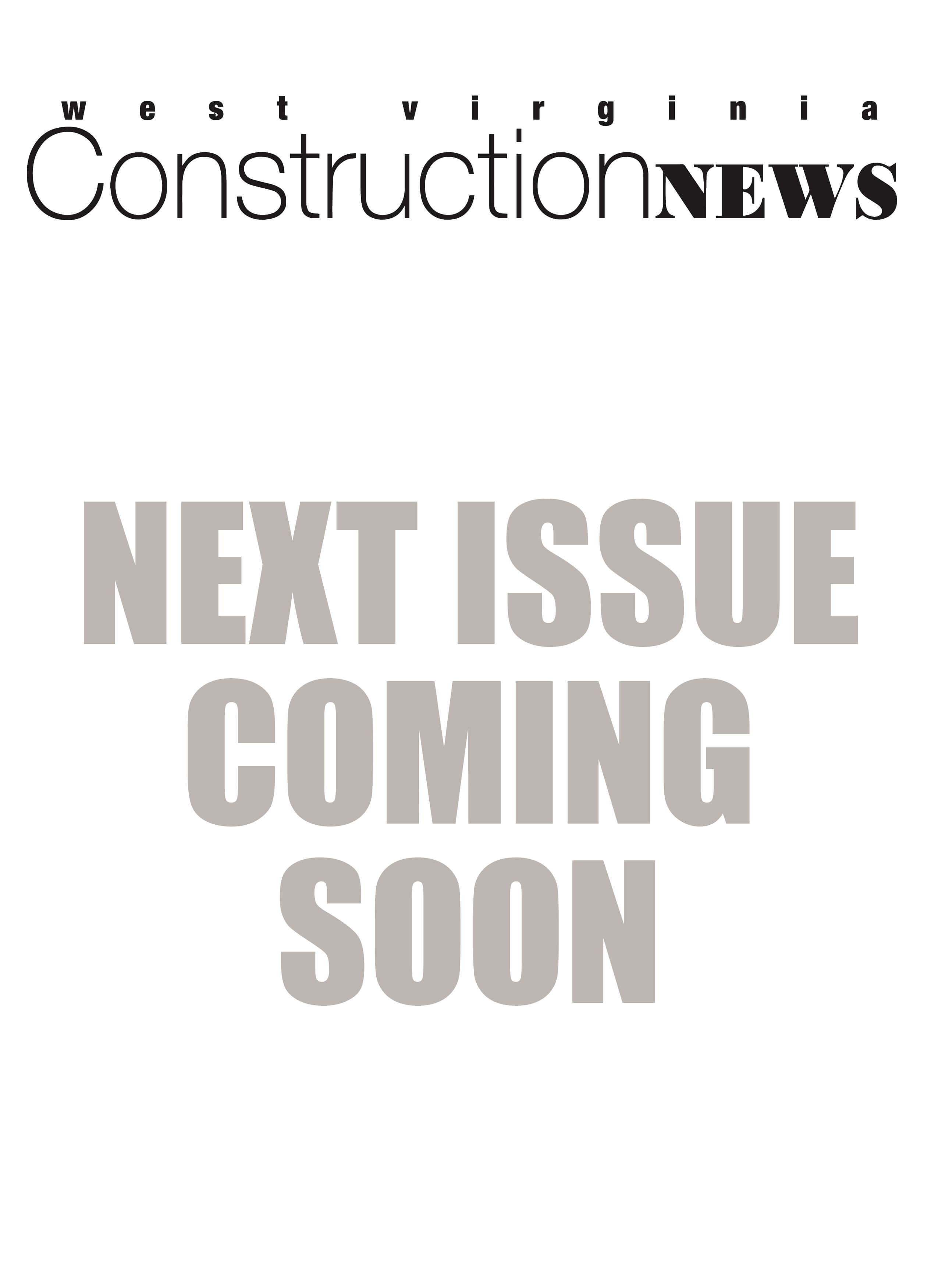 Governor Justice and industry leaders urge safe driving in work zones
Impressive programs offered at 2023 Midyear Meeting
Legislative leaders address infrastructure funding at State Meeting
2022 Safety Awards
2023 Scholarship Awards
Permitting reform top issue at CAWV Congressional Fly-In
West Virginia Construction & Design EXPO hosts number of quality sessions
CAWV member panel highlights Young Contractors Forum annual Leadership Meeting at EXPO
AIA Design Awards 2023
Don't let 30 years of hard work get destroyed in 30 seconds
Introducing the newest CAWV members
Construction sector outlook in West Virginia
CAWV Annual Report 2022
AGC EDGE Virtual Training
Meet the new Executive Director of the School Building Authority of West Virginia
Asphalt Pavement Association of West Virginia Chairman: Mark Haverty
Construction Forecast 2023
Mountain State contractors need to be nimble in 2023
The Bipartisan Infrastructure Law: One year later
Cashing out without selling out: The human dimensions of exiting a business
Supreme Court keeps agencies in the right lane
Dr. James Bryce joins WVU as the Pat Parsons' Asphalt Faculty Fellow
State-of-the-art Mountaintop Beverage facility under construction in Morgantown
Investments in infrastructure
AIA presents 2022 architecture awards
YCF hosts successful events
40th APAWV Fall Meeting
Jason Pizatella new CAWV Chief Executive Officer
2021-2022 CAWV President Nate Orders
CAWV Board of Directors 2022-2023
CAWV Annual Meeting 2022
CAWV survey shows material price increases, labor shortages concern for West Virginia contractors
National transportation organization celebrates 50th year
West Virginia Construction News celebrates 85 years
CAWV returns to Capitol Hill for 2022 CAWV Congressional Fly-In
Introducing the newest CAWV members
Mountwest Community and Technical College partners with C.J. Hughes to offer Utility Construction Program
CAWV recent events
Work zone awareness: Transportation officials promote safety at State Capitol
Workforce development takes center stage at State Meeting
EXPO returns strong in 2022
Workforce development and job retention highlight successful Midyear Meeting
WVDOT achieves peak project performance
2021 Safety Awards
2022 Scholarship Awards
Construction sector outlook in West Virginia
CAWV Annual Report 2021
ROCKWOOL: Investing in Jefferson County
The "Pat Parsons Asphalt Faculty Endowment" honors retiring asphalt leader
42nd Annual Asphalt Paving Conference
Construction forecast 2022
West Virginia contractors have reasons to be hopeful about 2022
What the federal infrastructure bill means for West Virginia
Guest Editorial: Good things coming to West Virginia with infrastructure bill
Guest Editorial: Bipartisan infrastructure bill a win for West Virginia
APAWV names John Crane executive director
2021 AIA award winners recognized
CAWV members serve in West Virginia's citizen legislature
CAWV members tour new wildlife education center
Encova/CAWV Association Safety Program offers new opportunity for associate members
CAWV Car Show 2021
2020-2021 CAWV President Michael Gianni
CAWV Board of Directors 2021-2022
West Virginia's economic development efforts spur construction opportunities Annual Meeting attendees learn
2020 CAWV President's Award
2020 CAWV Safety Awards
S.B. 673: New law signals change of state venue provisions in construction contracts
Congressional Fly-In new venue: CAWV Headquarters
Roane General Hospital defies the odds during pandemic
2021 CAWV Scholarship awards
WTS opens new chapter in West Virginia
2020 Report Card for West Virginia's Infrastructure
2021 ARTBA Bridge Report
Building a road to success: J.F. Allen celebrates 75 years in business
The successful preservation of a timeless hotel: Hotel Morgan
Introducing Harold Ward, WVDEP Cabinet Secretary
Asphalt Paving Conference goes virtual in 2021
West Virginia construction sector performance and outlook
Hyperloop comes to the Mountain State
CAWV Annual Report 2020
Tax credits help repurpose historic Atlas Building
Introducing the newest CAWV members
A cause for paws: YCF leads successful project at KCHA